Professor Ann Heilmann (University of Cardiff, UK):
Abstract Title: 'TILL DEATH DO US PART?': NEO-PRE-RAPHAELITE (DIS)ORIENTATIONS AND THE MANY REBIRTHS OF LIZZIE SIDDAL
My paper explores the representation, in contemporary neo-Victorianism, of Pre-Raphaelitism's most evocative cultural icon, Lizzie Siddal. The quintessential Victorian hysteric turned supermodel (Lucinda Hawksley) and decadent legend (Jan Marsh), who in death lives on (as a 'qhost in the house of living' in Charles Ricketts's words), how is Siddal re-imagined in 'neo-Pre-Raphaelitism'? Is she given a voice and agency, or is she, once again, made over into a symbol and object d'art? As a woman, model and artist, how is she positioned vis-à-vis both male Pre-Raphaelites, in particular Dante Gabriel Rossetti, and the other women in the circle, the Pre-Raphaelite 'sisterhood'? How is the objectified body (the beautiful body, the body wrecked by laudanum, the body exhumed) placed in relation to bodily agency (the body that refuses nourishment; the body that defies decomposition; the embodied spirit of the artist)? What role, if any, is accorded Siddal's own artistic identity and production? And how does the interplay of time, space and genre act on and 'disorientate' the (de)construction of the Siddal myth? I will consider a range of cultural responses, selecting from the following: stage drama (Kim Morissey's Clever as Paint: The Rossettis in Love, 1994), TV (Desperate Romantics, 2009), fiction (Margaret Power's Goblin Fruit, 1987; Fiona Mountain's Pale as the Dead, 2002; Kate Forsyth's Beauty in Thorns, 2017) and poetry (Dawn Marie Kresan's Muse, 2018).

Abstract Title: 'Orientating the Reader in Neo-Victorian Biofiction'
Although all neo-Victorian fiction strategically manipulates reader empathy and response, in biofiction this process assumes a much weightier ethical import, since the audience's affective orientation towards reimagined once-living subjects invites 'real-world' judgments of actual historical persons and past events. Neo-Victorian biofiction writers employ the database of available biographical information in highly selective fashion, choosing what to include in and exclude from their narratives and sometimes deliberately supplementing, adulterating, or distorting the record, so as to better serve aesthetic and/or ideological objectives. Consequently, the imaginative treatment of factual and invented biographical material becomes as important as the details themselves in determining how readers position themselves towards represented and re-presentified historical subjects – in the sense of the latter's 'Vergegenwärtigung' or bringing (back) into presence. This paper explores the strategic manipulation of reader orientation in two widely divergent neo-Victorian biofictions: the 1979 mock memoir The Secret Life of Queen Victoria: Her Majesty's Missing Diaries. Being an Account of Her Hitherto Unknown Travels through the Island of Jamaica in the Year 1871. Edited and Loyally Illustrated by Jonathan Routh, a blackly humorous chronicle of a quasi nineteenth-century road trip supposedly conducted by the mourning monarch a decade into her widowhood, and Richard Flanagan's 2008 realist trauma novel Wanting, focused on Lord John and Lady Jane Franklin, the Aboriginal orphan girl Mathinna, temporarily adopted by the Franklins during their sojourn in Tasmania, and Charles Dickens, enlisted by Lady Jane  to defend her husband's posthumous reputation against charges of cannibalism. Thinking through the implications of Routh's and Flanagan's biofictional choices and how these inflect readers' encounters with the nineteenth century's one-time existents helps clarify biofiction's (un)ethical complications and allows a better appreciation of neo-Victorianism's appropriative reprocessing of the past for the interests of the present.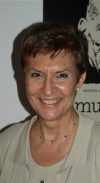 Abstract Title: 'Queering History: The Metaphor of the Palimpsest in Neo-Victorian Fiction'
The complexity of neo-Victorian fiction begs for a consideration of the specific conception of history that distinguishes it from other types of historical novels. Starting from the premise that at the core of the postmodernist conception of history lies a post-traumatic element that transforms Victorianism into "a revenant or a ghostly visitor from the past" (Arias and Pulham 2010, xv), whose return "opens up multiple possibilities for re-enactment, remaining, and reinterpretation" (xix), I establish a radical difference between the progressive conception of Enlightenment history endorsed by Sir Walter Scott in his historical romances, in which Scottish history is only perceivable as historical traces superseded by the dominant English history, and the simultaneity of past, present and future in the palimpsestic structure of neo-Victorian fictions. Drawing on Sarah Dillon's contention that palimpsestic literature requires a "palimpsestuous" or "risky" reading (2013, 63-84), and that monologic texts are "phallic" (91) while palimpsestic texts are heteroglossic texts capable of providing a "queer" alternative to phallocentrism, I go on to analyse John Fowles' The French Lieutenant's Woman (1969), a novel written by a male writer without an overt anti-patriarchal stance, from the queer perspective proposed by Sara Ahmed in Queer Phenomenology (2006).

Professor Patricia Pulham (University of Surrey, UK):
Abstract Title: 'Reorienting Neo-Victorian Literature: The Advantages and Disadvantages of Borrowed Prestige'
The neo-Victorian novel has occupied a contested position in postmodern literary culture. Deemed variously conservative, derivative, insufficiently experimental, and predominantly realist in form, it sits uneasily on its literary perch: promoted by publishers, enjoyed by readers, yet often reviled and dismissed by critics of Victorian and contemporary fiction alike. Since the early 1970s, numerous novels, now recognised as neo-Victorian have been nominated for or awarded literary prizes. From the 1990s onwards the numbers increase dramatically, triggered by the success of A.S. Byatt's notable bestseller, Possession: A Romance (1990), and include recent prize winners, Eleanor Catton's The Luminaries (2013) which won the Man Booker prize, and Sarah Perry's The Essex Serpent which won one of the British Book Awards in 2017.
Often categorised as 'historical fiction' or 'revisionary fiction',  that writes back to or rewrites canonical novels, neo-Victorian fiction's success in the literary marketplace has been attributed by some to readers' desire for 'a good read" on the grand old scale' (Widdowson 2006). Others consider that such fiction emerged from a Thatcherite return to 'Victorian values' (Hadley 2010), and see its impulse as essentially nostalgic, produced by contemporary authors who cannot eschew the anxiety caused by the influence of their Victorian ancestors (Gutleben 2001).
Furthermore, neo-Victorian topics (focusing on race, gender and sexuality) are very much a product of the postmodern period, coloured by 'twentieth-century cultural studies and postmodern theory' (Carroll 2010). The impact of feminist, postcolonial, and queer theory is evident in many neo-Victorian novels, a factor that opens them to the accusation that they function merely as repackaged vehicles for the reclamation of marginalised voices; here, the line between theory and fiction is constantly blurred and results in tired critical responses that serve up worthy examples but fail to push analytical boundaries.
In 2010, Samantha Carroll argued that neo-Victorian novels are caught in a double-bind that undermines their prestige; for Victorian critics, their engagement with the Victorian 'greats' necessarily places them in an inferior and relational position, and they are similarly undervalued by critics of contemporary fiction, seen as 'out-of-touch' with the postmodern (or perhaps post-postmodern) milieu. This paper builds on Carroll's concerns and asks whether the intellectual collaboration between creative writing, critical theory and the creative critic has becalmed the neo-Victorian novel in a literary Sargasso Sea, and whether this symbiotic relationship requires reorientation to ensure the vibrancy of neo-Victorian studies.